Tournament entry fee: $155.00 – Includes carts and range.
Shotgun Start – 9:30 am
Golf Course
Nestled in northwestern Connecticut's scenic Litchfield County, Bull's Bridge Golf Club offers a truly unique golf experience. The Berkshire foothills provide an impressive panorama with spectacular views prominent throughout the property. The 18 hole, championship golf course was opened in 2004, and it has quickly commanded the attention of the golf community. Designed by Tom Fazio, one of America's greatest living golf architects, the par 72 layout exemplifies his trademark design versatility. With four sets of tees, two hybrid course layouts and yardages ranging from 5,300 to 7,000 yards, the course simultaneously appeals to and challenges players of all skill levels. The natural beauty and meticulous conditioning create a most memorable round for all who play. While Travel Leisure Golf rated it one of America's Best New Private Courses in 2004, the course already exhibits a maturity and presentation level well beyond its years.

Tom Fazio Design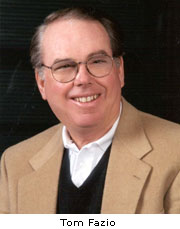 Throughout his 40 years in golf course design, Tom Fazio and his staff of talented designers have been recognized for creating award-winning courses throughout the United States. No living designer has more credits on Golf Digest's list of America's 100 Greatest Golf Courses and Golfweek's collection of America's Best. The Golf Digest poll for Best Modern Day Golf Course Architect was discontinued after Tom claimed the award three consecutive times, and he has also received The Old Tom Morris Award from the Golf Course Superintendents Association of America.
Fazio attributes this success to maintaining a team concept in design shared by the ten senior associates on his staff, all of whom have worked with Tom for anywhere from 15 to 32 years. This visionary group, with a diverse base of knowledge and united love for the game of golf, enable Fazio Golf Course Designers to continue to create courses that are noted throughout the industry for their excellence.
Fazio emphasizes the premise that "golf courses should reflect the natural beauty of their environments." Maintaining that principle, Fazio Golf Course Designers strives to follow design priorities that include creating harmonious transitions from existing topographical conditions, developing courses that offer golfers of varying skill a challenging yet enjoyable experience, and providing each client with optimum use of the property.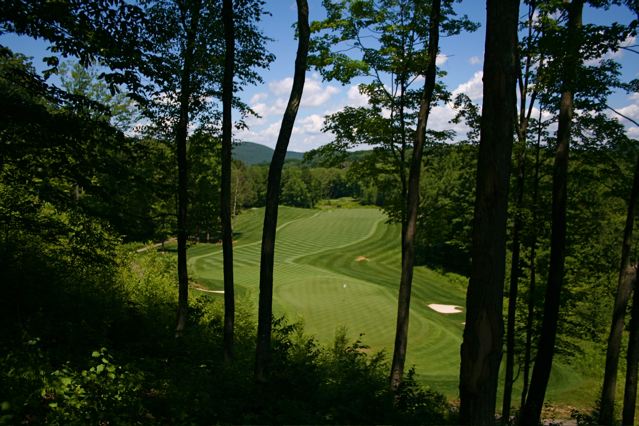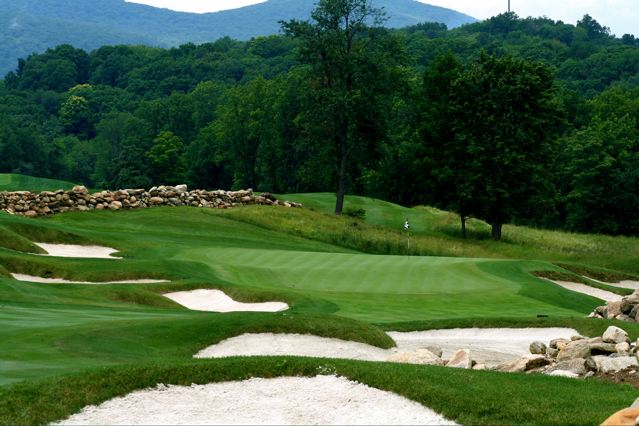 | | | | | | | | | | | | | | | | | | | | | | |
| --- | --- | --- | --- | --- | --- | --- | --- | --- | --- | --- | --- | --- | --- | --- | --- | --- | --- | --- | --- | --- | --- |
| Gold (M-74.1/137) | 543 | 322 | 409 | 162 | 432 | 607 | 196 | 358 | 401 | 3430 | 539 | 495 | 204 | 371 | 371 | 452 | 201 | 443 | 495 | 3571 | 7001 |
| Blue (M-72.0/133) | 516 | 300 | 393 | 156 | 404 | 525 | 180 | 334 | 375 | 3183 | 521 | 457 | 183 | 348 | 345 | 429 | 183 | 411 | 472 | 3349 | 6532 |
| White (M-70.0/130) | 492 | 294 | 371 | 138 | 387 | 515 | 144 | 296 | 370 | 3007 | 495 | 397 | 165 | 327 | 308 | 422 | 165 | 395 | 450 | 3124 | 6131 |
| Men's Handicap | 2 | 8 | 4 | 18 | 14 | 12 | 16 | 10 | 6 | | 3 | 9 | 11 | 15 | 13 | 1 | 17 | 7 | 5 | | |
| | | | | | | | | | | | | | | | | | | | | | |
| Par | 5 | 4 | 4 | 3 | 4 | 5 | 3 | 4 | 4 | 36 | 5 | 4 | 3 | 4 | 4 | 4 | 3 | 4 | 5 | 36 | 72 |
| | | | | | | | | | | | | | | | | | | | | | |
| Women's Handicap | 2 | 8 | 4 | 18 | 14 | 12 | 16 | 10 | 6 | | 3 | 9 | 11 | 15 | 13 | 1 | 17 | 7 | 5 | | |
| Blue (L-77.5/139) | 516 | 300 | 393 | 156 | 404 | 525 | 180 | 334 | 375 | 3183 | 521 | 457 | 183 | 348 | 345 | 429 | 183 | 411 | 472 | 3349 | 6532 |
| White (L-74.9/133) | 492 | 294 | 371 | 138 | 387 | 515 | 144 | 296 | 370 | 3007 | 495 | 397 | 165 | 327 | 308 | 422 | 165 | 395 | 450 | 3124 | 6131 |
| Red (L-71.1/129) | 464 | 249 | 338 | 112 | 346 | 486 | 110 | 263 | 334 | 2702 | 450 | 372 | 145 | 280 | 274 | 262 | 127 | 304 | 375 | 2589 | 5291 |
Register