Please check back daily for updates to the 2019 schedule.
Ellington Ridge CC – Private Club
Thursday August 1
$120.00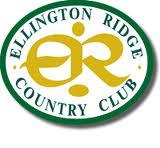 Tournament entry fee: $120 – Includes carts and Range.
Welcome
Ellington Ridge Country Club was founded in 1959 and has been frequently cited by Connecticut Magazine as among the ten best country clubs in Connecticut.  We are a private membership, full service country club, offering golf, pool, dining, banquet facilities, and a seasonal snack bar. We offer a variety of membership categories to accommodate both personal and business activities.  Since our inception, we have hosted numerous prestigious events including: Traveler's Qualifier, US Open qualifying, CT Open Championships, CWGA Amateur Championships, Collegiate Invitational and AJGA Junior Championshop events. Many of our members and products of our Junior Golf program have competed in these events.
Site
ERCC is located 16 miles northeast of Hartford in the town of Ellington just minutes from Interstate 84. It is situated in a beautiful pastoral setting with a view of sunsets across the Connecticut River Valley from the clubhouse patio.  The secluded property includes 4 spring fed ponds, a mixture of hard wood and coniferous trees, and open naturalized areas for birds and wildlife.
Golf Course
Our Par 72, 18 hole championship golf course was designed by the noted golf architect, Geoffrey Cornish, and has undergone numerous major improvements in the last 50 years.  Our golf course measures close to 7000 yards from the championship tees and includes 6 additional progressively shorter teeing grounds for golfers of all skill levels. Our practice areas include a 6 acre driving range, 2 practice putting greens and a dedicated short game practice area.  We pride ourselves on being a friendly, family oriented club and are recognized as having one of the top Junior golf programs in the state.  Course conditions at ERCC support play and motorized carts throughout the entire golf season, even during and after heavy rains.  A typical round of golf at ERCC is played in four hours or less.
View the Best of Hartford 2015 Magazine excerpt voting Ellington Ridge CC as 2nd Runner Up in the "Best Private Golf Course" category.