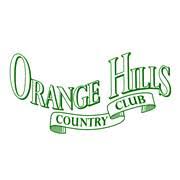 Orange Hills CC – Orange, CT.

Tournament entry fee is : $76.00 – This is the walking rate. Carts can be rented in the pro shop.
Orange Hills Country Club is a family owned golf course that has operated for over 60 years and features private course conditions at public course prices. Golf Digest has consistently rated Orange Hills 4 out of 5 stars on their "Best Places To Play" list. Orange Hills is a member of the Connecticut State Golf Association, the United Stated Golf Association and is a recognized member of the Audubon Society.
Our friendly staff and experienced PGA professionals are here to provide an enjoyable experience. We have opportunities for golf outings, junior and senior programs/rates as well as Men's and Women's Golf Associations. Orange Hills combines outstanding customer service with superior course conditions.
The course presents a fair but challenging test for golfers of all skill levels. In fact, Orange Hills is a great place to take up learning the game and is welcoming new golfers by utilizing our PGA recognized family short course, which is ideal for beginning golfers who are not quite ready for the full length course.
With our experienced professional staff, we offer golf instruction and equipment discounts to get new players into the game. From scratch golfers to people who are simply looking for their first experience in golf, Orange Hills is a great venue for you.
Designer – Geoffrey Cornish
Next Event
Date

Mar 01 2024

Time

All Day